About Our Salon

Just Men's Haircuts has become a favorite destination for men that want modern, stylish, or traditional hair cuts. Every man deserves quality and comfort. At Just Men's Haircuts we've created a unique environment where gentlemen can relax and enjoy every visit. Our talented stylists/barbers are trained on the latest techniques in cutting, fading and beard outlining.
What We Offer
Men`s Haircut & Style
Every haircut and shave is executed with precision and style. We promise you'll walk out of here lookin' great.
Classic Shave
We apply a hot towel and pre-shave cream to ensure you get the closest and most comfortable straight razor shave possible.
Head & Neck Massage
Had a rough day? Our deep scalp massage and relaxing neck massage helps relieve stress and tension. A great add-on to any of our services.
Our Products
At Just Men's Haircuts we carry only the highest quality hair care products! Our stylists can help you choose the products that are right for YOUR hair to get you the results you want.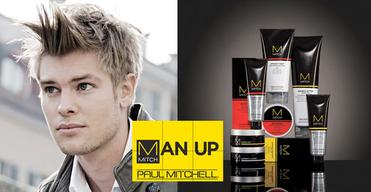 Paul Mitchell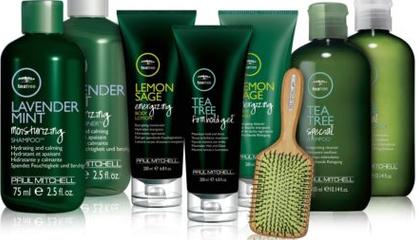 Tea Tree Shampoo is used to treat scalp conditions such as dandruff and stimulates new hair growth by clearing out old dead skin cells from hair follicles. Due to the tingly feeling and fresh minty smell, Tea Tree Shampoo makes you feel invigorated and energized.Tea Tree Hair and Body Moisturizer Leave-In Conditioner is ideal for all hair and skin types. Enjoy a post-shower tingle as lavender, tea tree oil, peppermint, and special conditioners cool, rejuvenate and hydrate.If you are trying to stimulate hair growth and want to feel refreshed after shampooing, Paul Mitchell's Tea Tree Line is the right product for you!
American Crew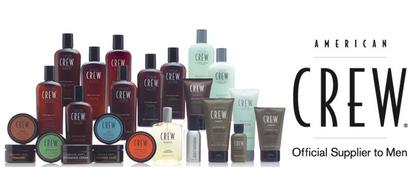 American Crew continues to lead the way in the men's grooming business.
With a passionate commitment to men's grooming, Just Men's Haircuts
provides men with a great new experience and shows them new ways of
incorporating style into their everyday lives.
NIOXIN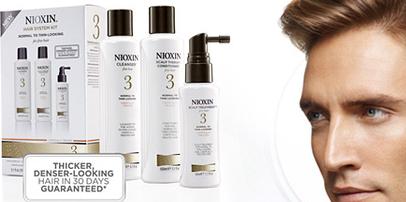 What are the reasons for hair loss? Research has shown that genetics is not the only cause of thinning hair. Build-up of conventional hair care product ingredients, toxins, pollutants from the environment, and a lack of circulation to the scalp skin can contribute to thinning hair. The damaging effects of chemical service residues as well as the mechanical aggressiveness of styling combined with the heat from styling tools can also lead to excessive daily hair loss. Many medications or medical treatments can also have side effects leading to excessive daily hair loss. NIOXIN complete system provides 5 effects for thicker looking hair. 1. Reduces hair loss due to breakage 2. Delivers denser looking hair 3. Amplifies hair texture 4. Stengthens hair against cuticle damage 5. Cleanses excessive sebum from scalp To create a healthy scalp environment and achieve the best results, we recommend to only use the NIOXIN system. However, the Bionutrient Protective or Bionutrient Actives System of products works within your normal hair care routine.NIOXIN uses all natural ingredients which have no side effects.